These specially picked hooded capelet sewing patterns are extremely versatile. The secret of sewing a hooded capelet lies in its simplicity. Slip it on for warmth getting to and fro, or wear it as a comfortable and stylish outer garment for those in-between seasons.
Easy to make and easy to wear, a hooded capelet is a must-have garment for cooler weather maternity, nursing and baby-wearing!
And, nothing makes your imagination soar quite like a hooded capelet: indulge your fantasy by creating versatile costumes. From a Jedi cloak to Little Red's riding hood, these hooded capelet sewing patterns does it all.
The Amber hooded capelet sewing pattern is the perfect blend of a hooded sweatshirt with a cape overlay. This classy capelet is designed for knit fabrics.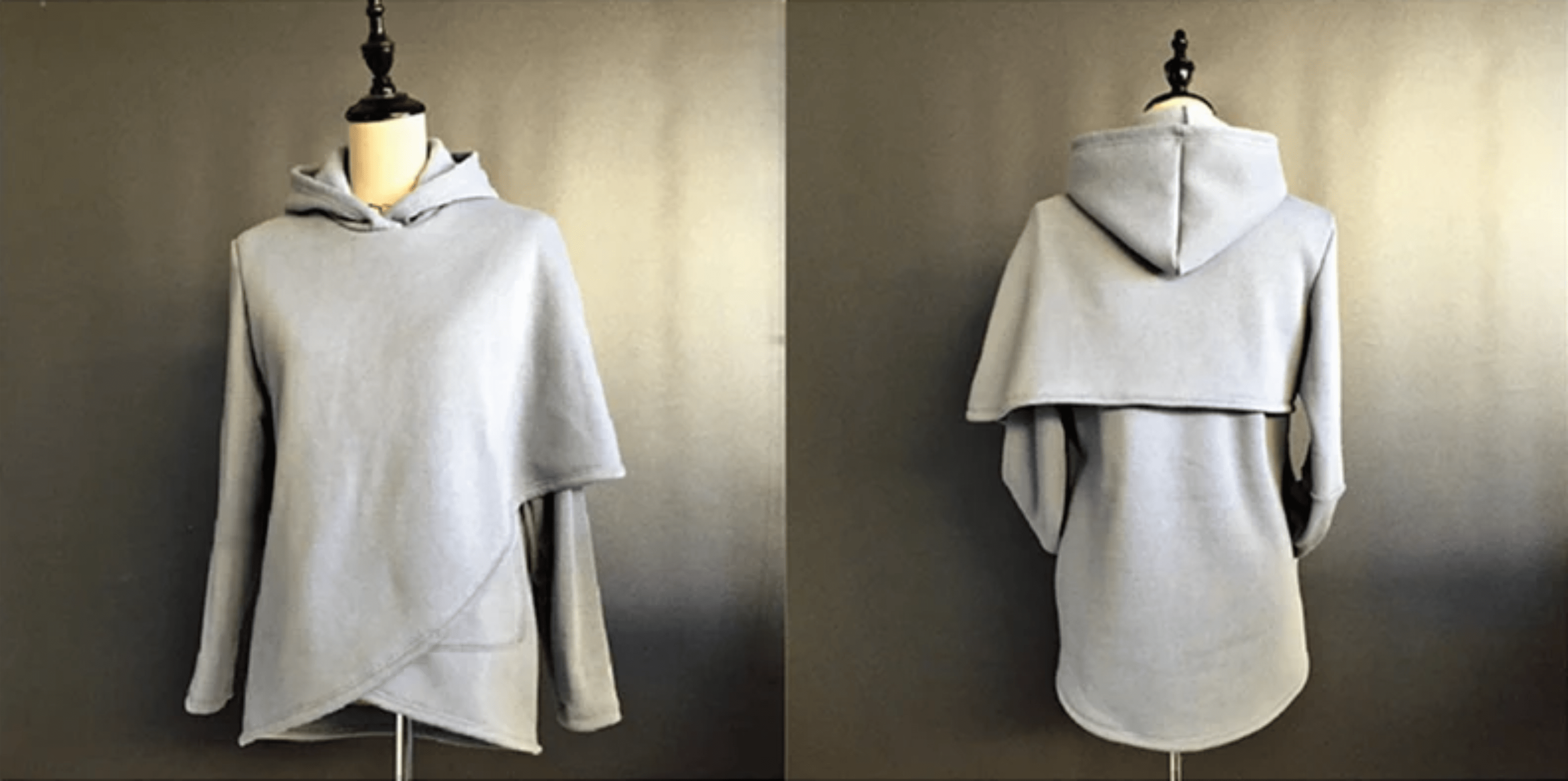 It features a high neck unlined hood, asymmetrical high-low cross over front with cutaway hemline, full length or elbow sleeve options and a hidden kangaroo pouch pocket.
This is a multi-size layered PDF pattern fitting sizes XXS-4XL.
If you are a beginner sewer, this design is very accommodating. There is a Sew-A-Long video for those needing more guidance on the designer's Youtube channel. But if you're a more experienced sewer, the available single page construction sequence would be all you need!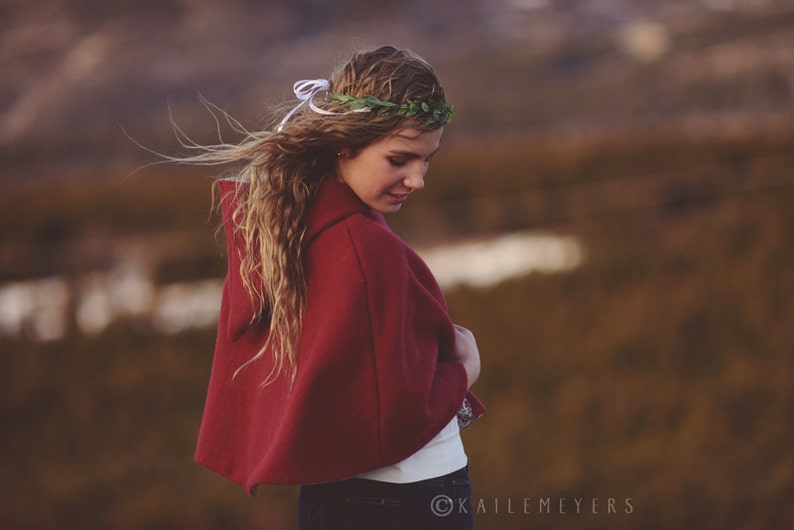 This is our favourite hooded capelet sewing pattern! This gorgeous capelet is the ultimate cape costume pattern and perfect if you are a beginner sewer. Being unisex, it is designed for sizes 0-24+. Also, there are 5 lengths from capelet to cloak to choose from. And, you can decide between a pixie hood, round hood or a simple collar. It's ideal for nursing and baby wearing or make a rain cap from waterproof fabric.
Looking for a capelet for your little one? The Little Red Riding Hood Girls Cape pattern is a fast and easy pattern!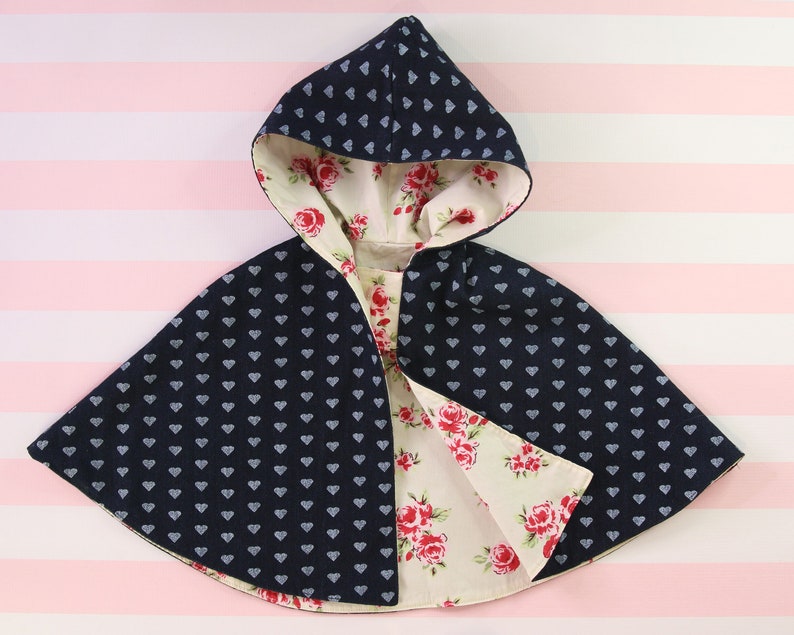 Also, you can opt to make it a reversible cape! It's suitable for the beginner sewer and is an ideal first project. Cozy, comfortable and eye-catching, it is a cute addition to any little girls wardrobe!
This pattern is multi-sized and comes in girls sizes 1-8 (to fit approximately ages 1 to 8).
Also, the PDF tutorial includes all the patterns and instructions you need to complete the cape and appliqué.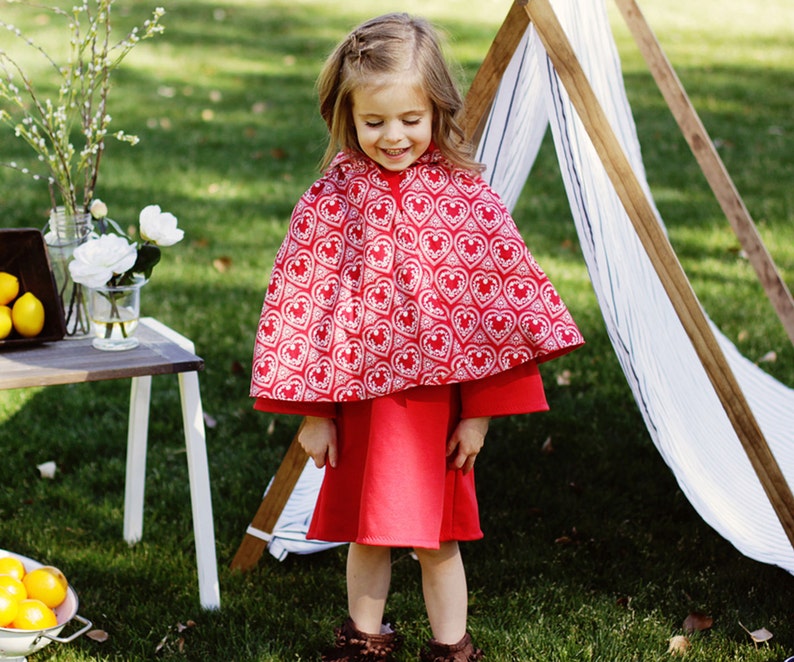 If you have never sewn a felt applique before you really should try it. Felt can be straight stitched around and is very forgiving of crooked sewing.
This cape could be made from a multitude of fabrics. If you are looking for something warm and cozy for the Winter, you could use velvet, polar fleece, wool or wool-blend. In addition, you can line it with colorful cotton. And, for a light summer cape, you could use light or medium weight cotton.
Share this Pin on Pinterest!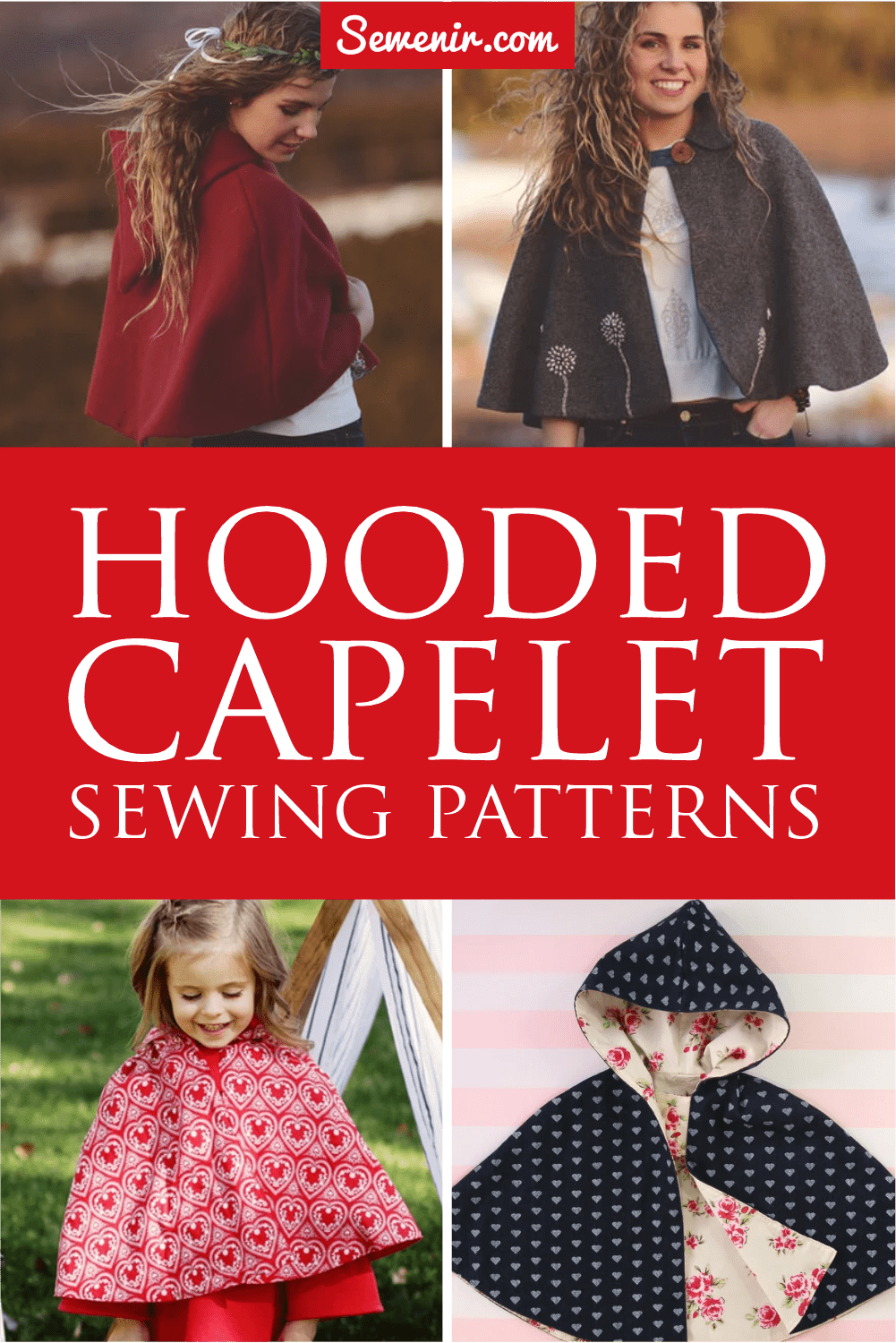 (Please note this is a PDF file ONLY
and not a finished product.)