These easy Summer dress patterns for beginners are mostly straight seams with no zippers or button-holes. All you need is a pattern, a fabric with a nice drape, sew a few straight seams, and before you know it, you've got a lovely sundress to wear all summer.
Nothing beats a Summer day than throwing on your favorite Summer dress on a warm Saturday and relaxing outside with an icy drink. Whether you prefer a maxi dress or want to flaunt your legs in a mini, the perfect sundress is the one that fits just right. And, one that you've sewn yourself from just the right fabric!
Choose the Right Type of Fabric for Your Summer Dress
Summer dress fabrics should be lightweight and breathable. Fabrics such as lightweight cotton, dupioni, crepe, rayon, and shirting are excellent choices for a light and breezy dress. In addition, linen and quilting cotton are options for a more structured, less drapey dress. Also, don't select synthetic fabrics – it traps heat and will make you feel sweaty.
Try sewing one of these easy Summer dress patterns for beginners for an effortlessly elegant wardrobe option.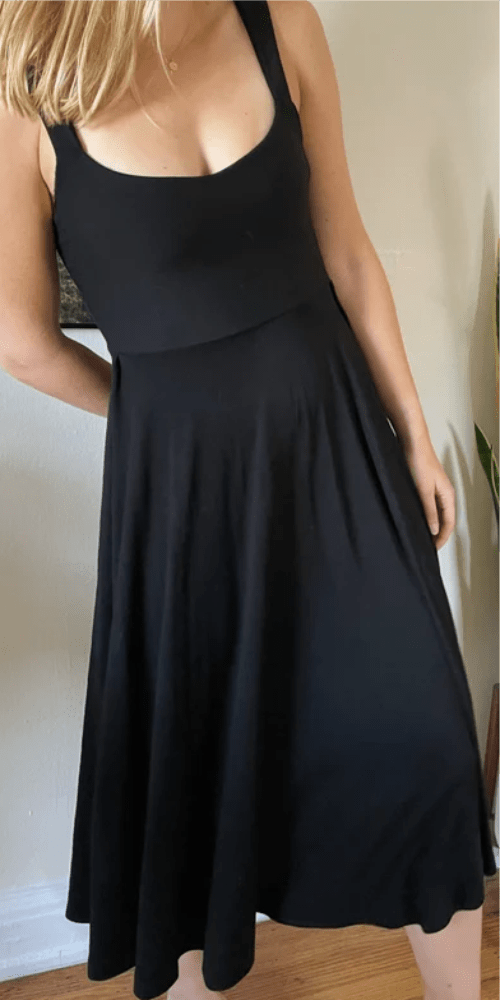 This beginner dress sewing pattern by Etsy shop, EffortlessPatterns is an easy, yet chic and minimalistic pattern. It is a great first time sewing project!
And, it's perfect for the Summer. Stretchy fabric would be the most suitable type of material to go with. The designer also recommends a blend of Tencel Spandex stretch fabrics.
Being a downloadable PDF on Etsy, it prints well and everything lines up perfectly. We appreciate the lined bodice and that the straps are wide enough to cover bra straps. Although the designer mentioned that she always wears her Nila dress without a bra during Summer.
It shouldn't take you more than 1.5 hours in total to sew together.
The instructions include both A4 and letter printable PDFs with size ranges from S-XXL.  The designer is working on extending it for more sizes, so stay tuned.
A fun thing offered by EffortlessPatterns, is that you can become involved as a pattern tester! If this is something of interest to you, do message the shop.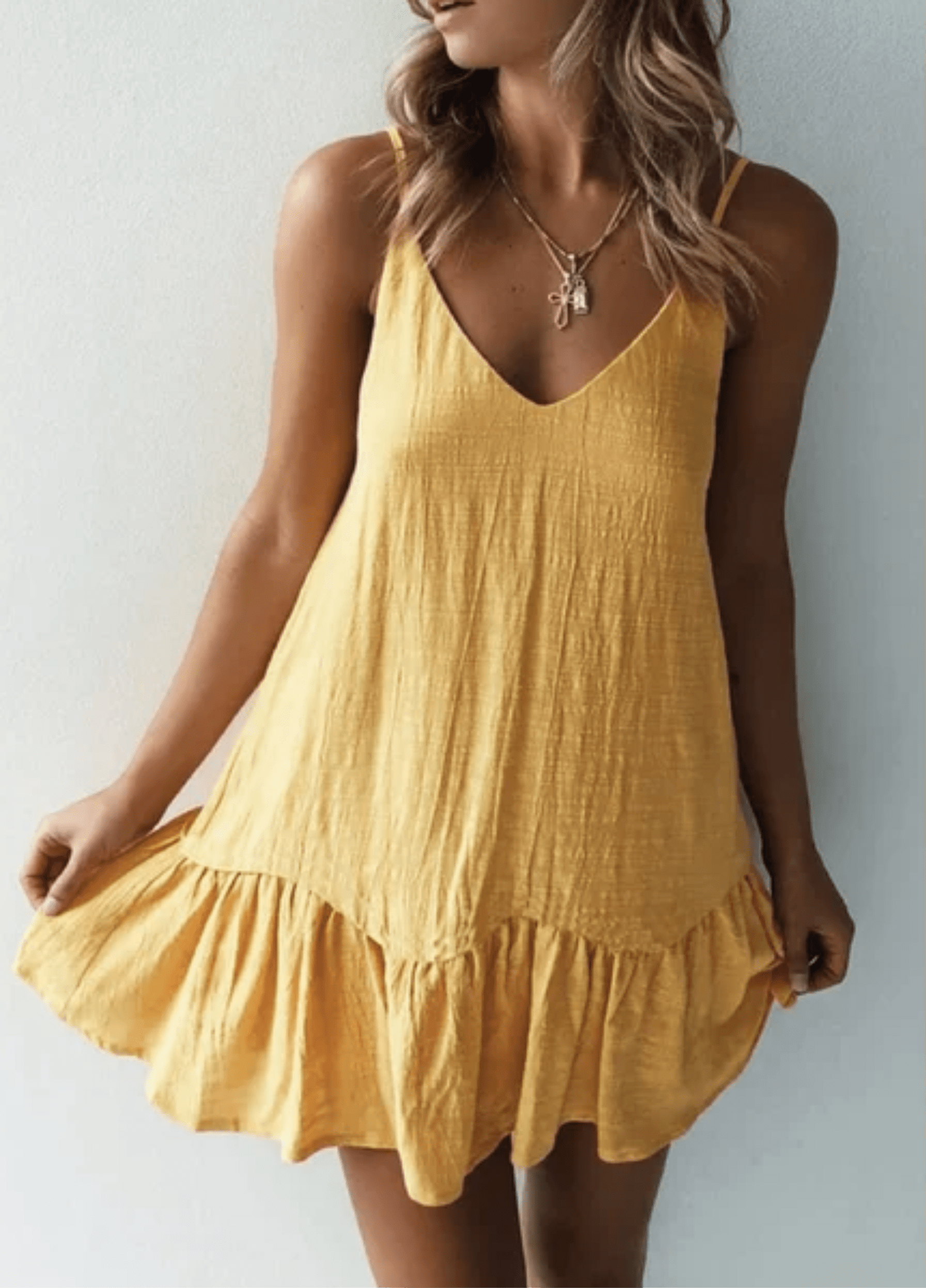 This loose dress is a staple gathered dress that is easy to construct and is perfect for beginners or experienced sewists!
The pattern comes in sizes XS, S, M, L, XL. All patterns include seam allowance already.
It is recommended that you use comfortable woven fabrics for a relaxed fit. Lightweight fabrics will perform best, such as cotton, double gauze, chiffon, rayon, viscose or any non-stretch woven fabrics. For all sizes, you will need 2.5 meters / 2.7 yards of fabric.
This pattern comes with easy instructions, an A4/US Letter pattern and an A0 pattern. If you're looking for a beginner friendly project that will take 2 hours to make, then this is perfect for you!
Looking for a summer staple that you can live in all summer long? The Racerback Tank Maxi Dress sewing pattern is comfortable, easy to move around in and figure flattering. Dress it up for a night on the town down for a quick lunch!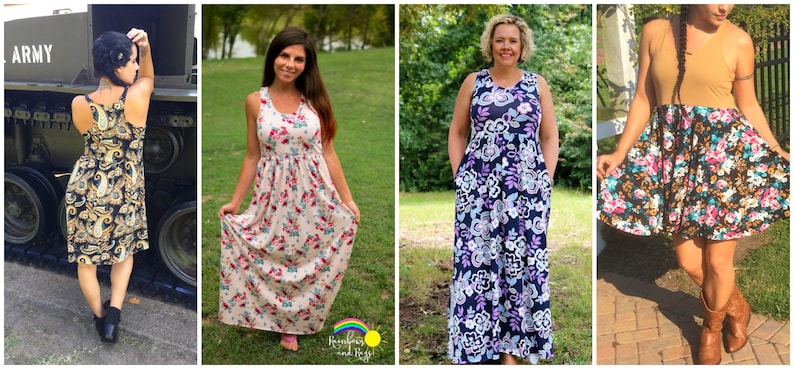 The Racerback Tank maxi dress sewing pattern comes in 3 skirt choices: short skirt, maxi skirt or circle skirt.  You can choose a short skirt, circle skirt or full length maxi skirt. Also, in a lined or banded bodice.
You can even add elastic at the waist to give it a more fitted look! So, you can make exactly what you want in one fabric or two!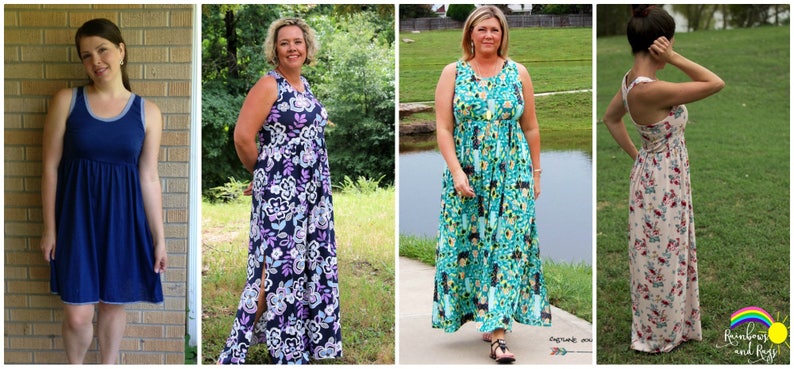 The Racerback Tank Maxi features a knit pattern with a rounded neckline in the front, racerback style, gathered a-line skirt, circle skirt or full length maxi skirt with or without pockets and a maxi skirt side slit for that perfect touch! Neckline and armholes can be finished 3 ways! They can be finished with arm bands, they be fully lined or they can be hemmed.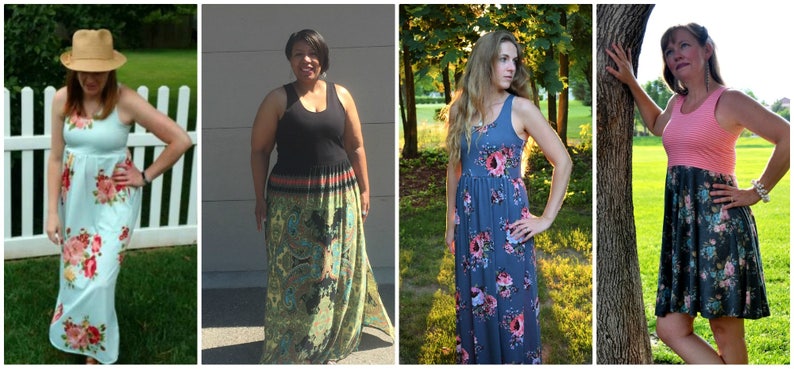 The Racerback Tank Maxi Dress is simple to make in an afternoon using your favorite knit fabric. Think florals, solids or your favorite geometric print.
No buttons or zippers needed.
Petite, regular and tall hem and bodice lengths and widths included.
Pattern prints on US LETTER size paper.
All sizes XS – XXXL (sizes 0-26) are included in this pattern. This pattern features 20 photo illustrations and tutorial-style instructions.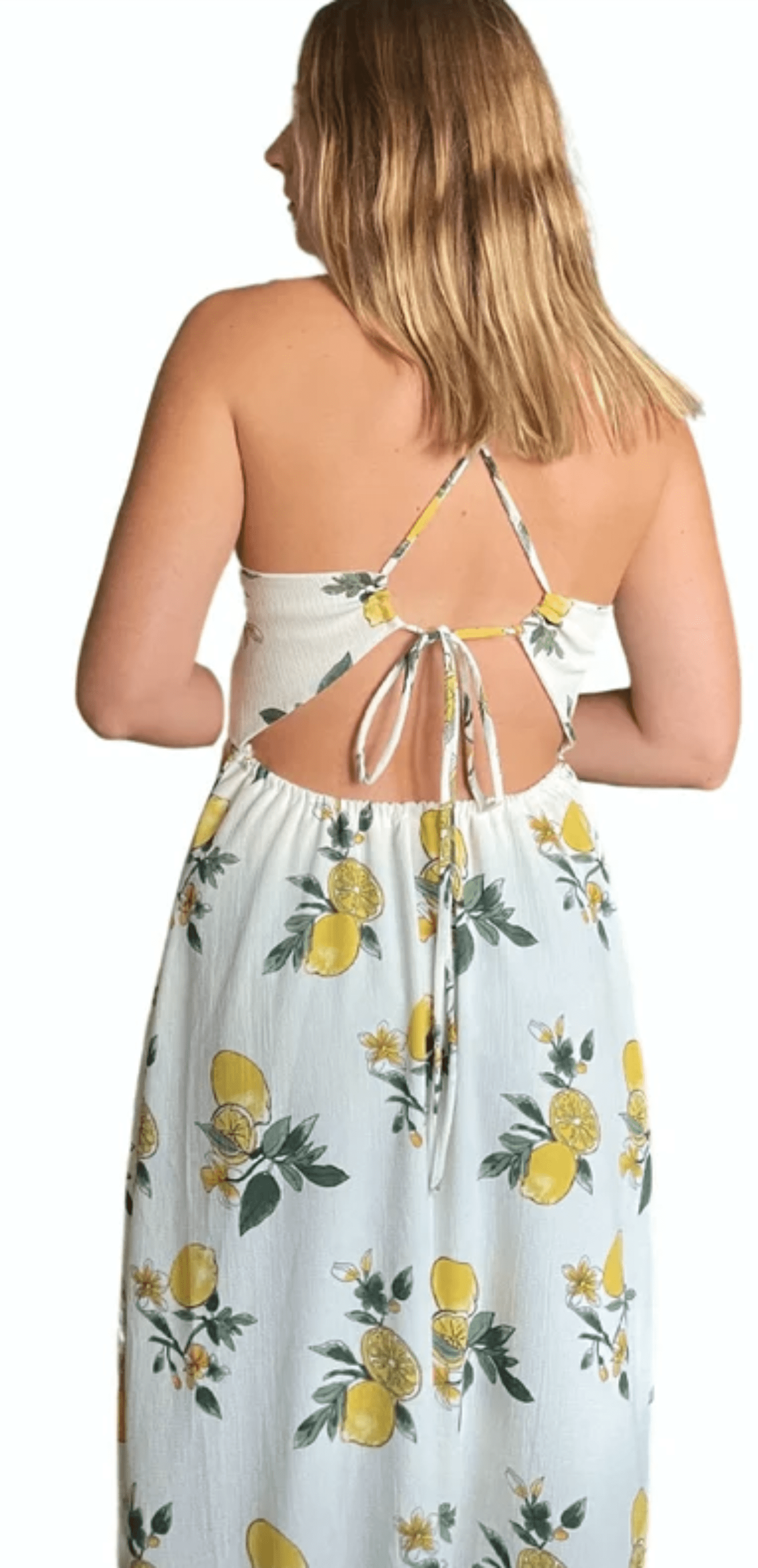 The Hanna dress sewing pattern is an easy, yet chic and minimalistic sewing pattern that is perfect for the Summer.
It comes in two styles:
Style A features a halter top with straps that go through the front side of the top to create a ruching effect.
Style B features a parted middle section that ruches to create a perfect heart shaped fit.
The dress is best made with non-stretchy fabric: lightweight to medium weight fabric such as viscose, crepe viscose, lightweight linen or cotton are perfect for the dress. It takes about 2 hours to make and you'll need 3 yards of fabric and an elastic band. The designer always wear this dress without a bra in the Summer.
Some sewers found that modifying the pattern to their taste quite easy.
The instructions include both A4 and Letter printable PDFs with size ranges from S-XXL. It is a great first time sewing project.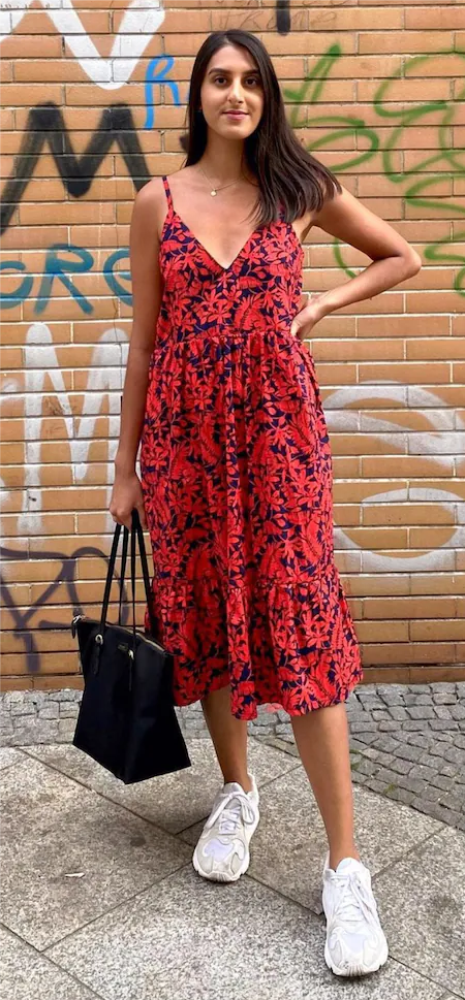 The Rhea dress sewing pattern is an effortlessly stylish, v-neck dress with a semi-fitted bodice and loose waist and hips for maximum comfort.
The dress will stand out in your wardrobe as it has a gathered waist detail that flares out to a gorgeous ruffled hem. This sewing pattern is perfect for beginners as the dress is a slip-on style that has no tricky fastenings.
When designing this pattern, the designer wanted this dress to feel effortlessly stylish and easy to wear. This dress is a dream to sew with a gorgeous cotton, but will look incredible in any light/medium weight woven non-stretch fabric such as Satin, Cotton Poplin, Rayon/Viscose, Crepe, and Chiffon.
The skirt of this dress is not lined, so you will need to make sure the fabric is not too see-through, alternatively you could line the skirt too.
With this download, you will receive a print at home A4 sized paper pattern along with illustrated instructions that make it super easy to create your own handmade wardrobe!
Print the pattern 100% to scale and it will fit on A4 and US Letter sized paper. There is also an A0 sized pattern included for you to print out at a printers full size.
For more easy Summer dress patterns for beginners, visit Etsy.
Share this Pin on Pinterest!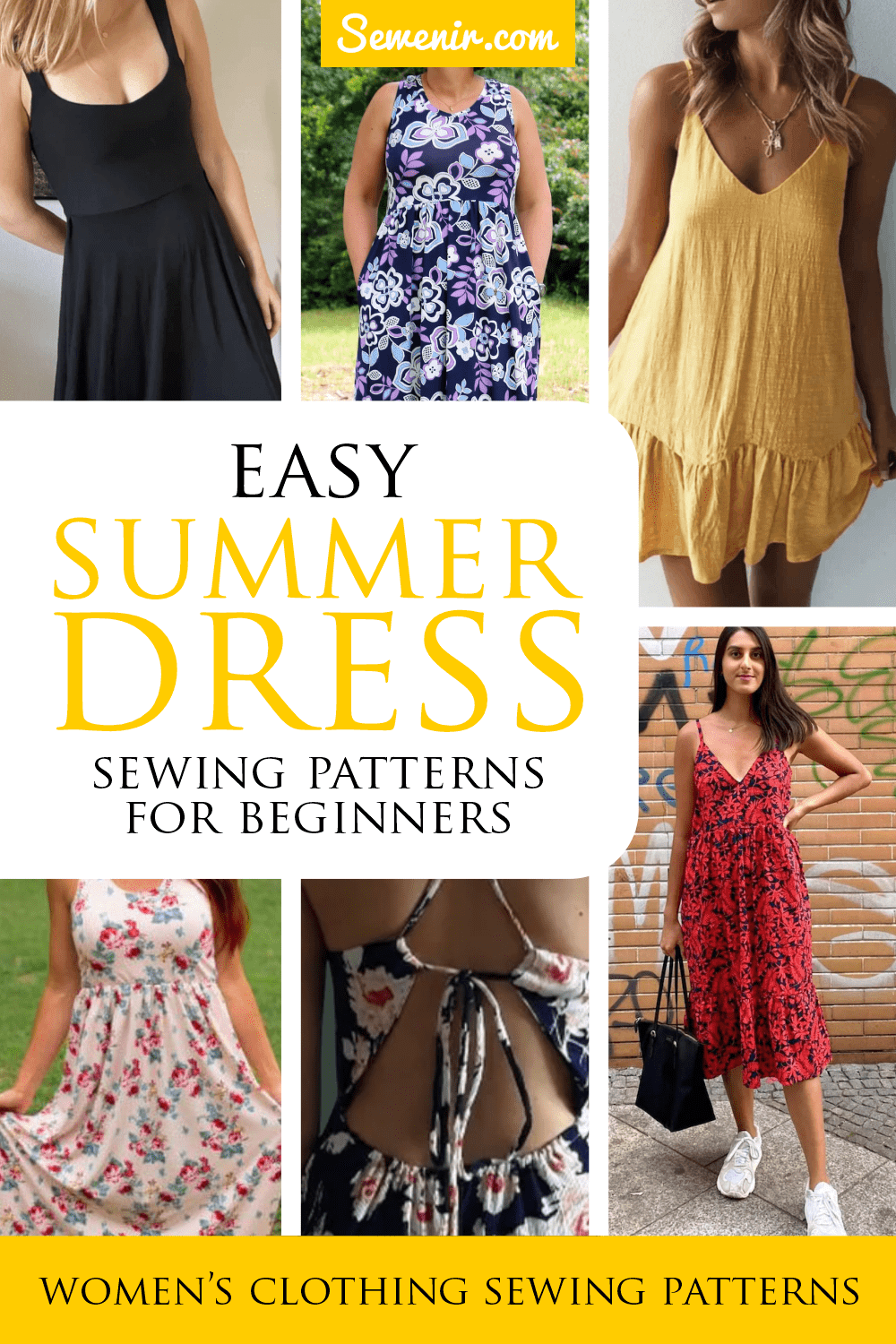 (Please note this is a PDF file ONLY
and not a finished product.)