Discover how to make cloth bags at home step by step with sewing expert, Nancy Green's video tutorial. No need to pay high prices at those fancy boutiques!  Sewing level: Confident beginner.
Whether a beginner, intermediate or advanced sewer, you learn how to sew your own stunning designer, batik handbag with basic supplies and a sewing machine.
This pattern has lots of pockets and space inside.
Her original purse design is included with the class. This gives you options for a solid or pieced fabric bag front and back, interior and exterior pockets, long or short straps and a tall or shorter bag. You'll love all the options you get in this class!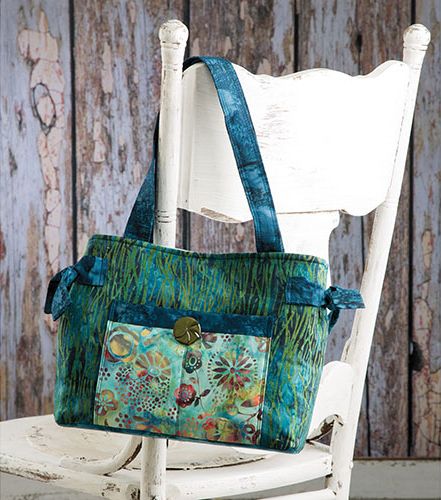 In this video class, you'll learn how to:
perfectly measure and cut fabric pieces
create a pieced front and back
create a button loop closure
insert a magnetic clasp
create outside lined pockets
sew an inside lining with pockets
add tucks to create bag shaping
add bag ties and straps
use fusible materials including fleece, heavy-weight stabilizer and extra-firm stabilizer to give your bag shape that will last for years
Beginner sewers who can thread their machine and sew a straight line will be able to successfully complete this class.
Annie's online classes include downloadable and printable class patterns in PDF format in addition to the online video content.
You can view online classes at your convenience, 24/7, 365 days a year. And you can watch it from any mobile device, both tablet and non-tablet (phones, iPod Touch, etc.). However, the classes are best viewed on tablets or computers. All Annie's online classes and DVDs have closed captioning.