Discover how to make a leather bag! Patterns, tutorials & courses are also covered in this post. Leather bags are durable, not to mention looks sophisticated. To acquire this skill, is valuable for any stitcher!
We don't know about you, but we can never have enough bags. And it adds a special value when you make one yourself, doesn't it?
For this reason, we've put together this "go to" guide on how to make a leather bag, patterns, tutorials & courses.
How to Make a Tote Bag Patterns Course
Nothing compares to having someone teach you one-on-one. For beginners of bag making, taking a video tutorial course will make all the difference!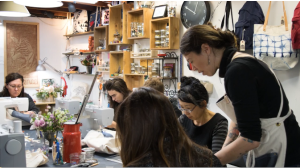 Ellie Lum is an experienced bag maker for almost 20 years and teaches various courses on bag making on Skillshare.
Ellie's Intro To Sewing: Leather & Canvas 'Oberlin' Tote Bag & Machine 101 is not a full leather bag course. However, if you're a beginner, this will help you get into bag making before learning how to make a leather bag. Patterns are included in all the courses.
More About Skillshare
Skillshare is one of the largest online course platforms in the world with over 24,000 courses. Gain access by signing up with your email address and you'll be able to watch hundreds of courses on various topics for FREE, including this course.
They have a Premium option too and you can trial this option for FREE for two months. For less than $10 per month, you can unlock unlimited access to many more video tutorials.
Think of it. To take one course on one subject at a venue through an institution on average costs hunderds of Dollars. Now you have access to thousands of step-by-step tutorials on sewing, bag making, quilting workshops and many other DIY projects.
Leather Bag Patterns & Tutorials
Etsy is a great source for getting quality leather bag patterns. The patterns are easy to download and print on a regular printer. Also, most of them include step-by-step tutorial with illustrations. Plus, one can always contact the seller for clarification. We highly recommend the 3 following how to make a leather bag patterns made by awesome leather pattern shops on Etsy: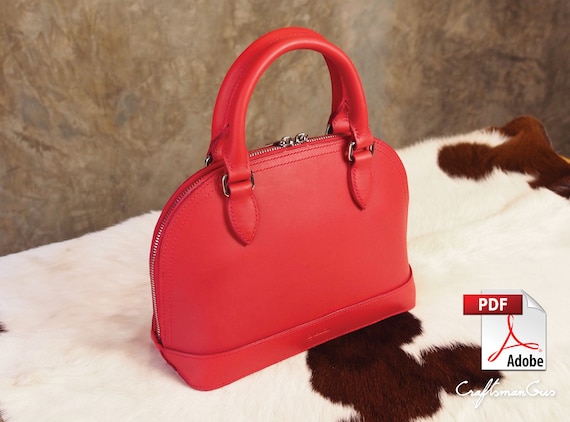 We absolutely love the Craftmangus shop on Etsy. They specialize in leather handbags,  purses and make their patterns and available for purchase. Many of their items are in fact best sellers within the DIY leather bag category. The instructions are clear and it includes pictures. This particular handbag even has a video guide!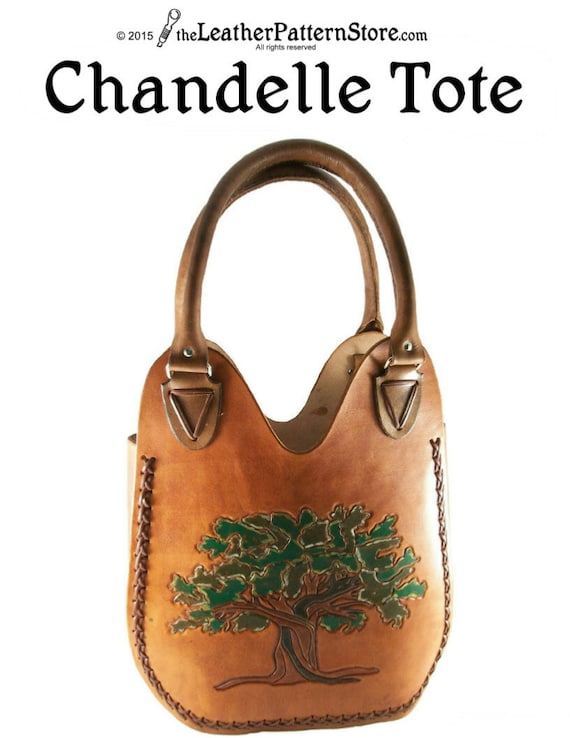 If you're looking for something unique, the browse on over to the Leather Pattern Store! Their designs are quite different to many other leather bag patterns.
The Chandelle leather tote bag is a medium sized tote bag, with one large center compartment.
Heavy duty handles come with complete pictorial instructions to make them, all in full color. The handles fold out of the way when you want to get something out of your bag!
Tree tooling design is done with a swivel knife and a beveler. Nothing else. And the best thing? The tooling design is INCLUDED with this pattern!
Leathercraft pattern for leather workers everywhere. Make them for yourself, make them for your friends, make them to sell.
Examples, materials list, tools required, instructions and patterns are all included in this PDF pattern pack! All available for instant download!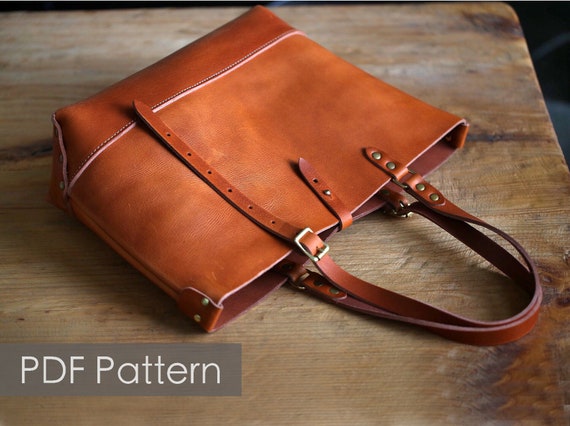 Leather DIY Studio have GREAT leather bag patterns. However, instructions are not included with the patterns. So, if you're new to leather bags, we recommend that you choose one of her patterns after creating your first leather bag. That said, she's very active in replying (taking time zones in consideration) and will get back to you, should you have any questions.
Share this Pin on Pinterest!