Sling bags looks sophisticated and once you've made one, you'll be hooked to make more! Discover how to sew a sling bag with zipper all by yourself. We also cover patterns with tutorials & courses.  Sling bag making is a valuable skill – make it for yourself, as a gift or to to sell!
We don't know about you, but we can never have enough bags. And it adds a special value when you make one yourself, doesn't it?
For this reason, we've put together this "go to" guide on how to make a sling bag, which includes patterns, tutorials & courses.
Nothing compares to having someone teach you one-on-one. For beginners of bag making, taking a video tutorial course will make all the difference!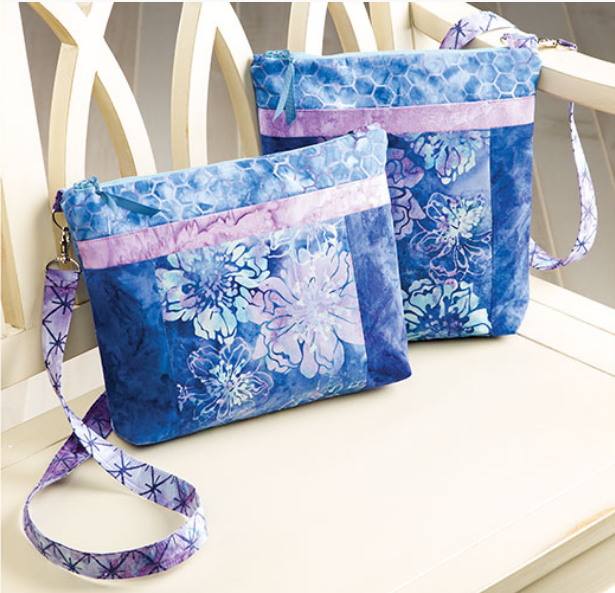 Sewing expert Nancy Green, is the owner of Pink Sand Beach Designs, a company that specialized in bag patterns and kits. She offers an online workshop on how to sew a sling bag with zipper, which costs only $9.99.
Join Nancy as she demonstrates step-by-step how to cut, sew and finish a crossbody sling bag made with stunning batiks and quality fusibles. Her exclusive crossbody bag pattern includes a back zippered pocket for your cell phone, an inside lining with extra pockets, a secure top zippered closure and straps you can adjust to suit your body height.
In this online sling bag class, you'll learn how to…
choose the perfect fabrics for your bag
perfectly measure and cut fabric pieces
add a zipper using an easy zipper technique beginner's will love
create a lined zippered pocket
sew an inside lining with pockets
sew straps with swivel hooks and D-rings
adjust the strap size to suit your height
use fusible materials, including fleece and heavy-weight stabilizer to give your bag shape that will last for years
Beginner sewers who can thread their machine and sew a straight line will be able to successfully complete this course.
Annie's online classes include downloadable and printable class patterns in PDF format in addition to the online video content. Also, you can view online classes at your convenience, 24/7, 365 days a year from any mobile device, both tablet and non-tablet (phones, iPod Touch, etc.). However, classes are best viewed on tablets or computers. All Annie's online classes and DVDs have closed captioning.
Sling Bag with Zipper Patterns & Tutorials
Etsy is a great source for getting quality sling bag patterns. The patterns are easy to download and print on a regular printer. Also, most of them include step-by-step tutorial with illustrations. Also, you can always contact the seller for clarification. We highly recommend the three following how to sew a sling bag with zipper patterns made by awesome bag pattern shops on Etsy: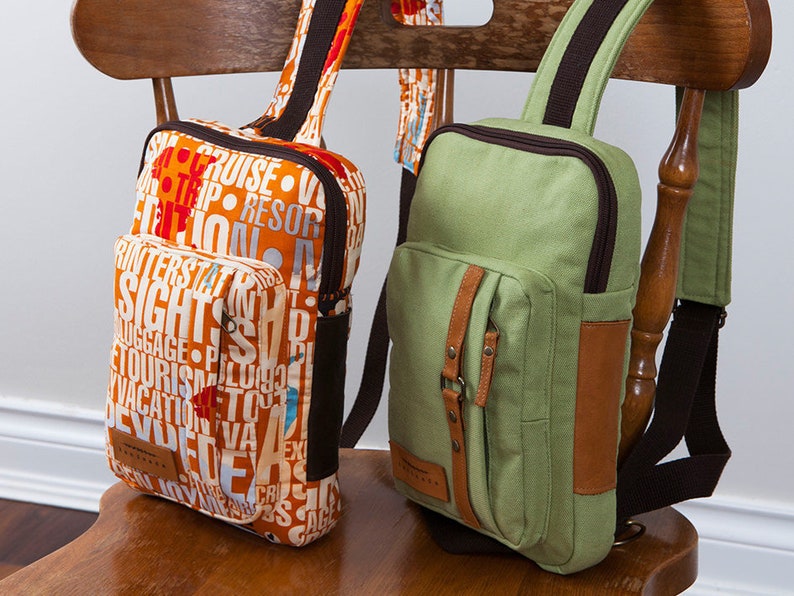 We absolutely love the I Think Sew Bags shop on Etsy. They specialize in sling bags, including handbags, crossbody bags and purses and make their patterns and available for purchase. Many of their items are in fact best sellers within the sling bag pattern. The instructions are clear and it includes pictures.
The Kenzie Cross Body Sling Bag features a casual and trendy design with zipper that is perfect for everyday use. The bag's pockets, designed to store small items, allow for easy access to your most important belongings while keeping them safe.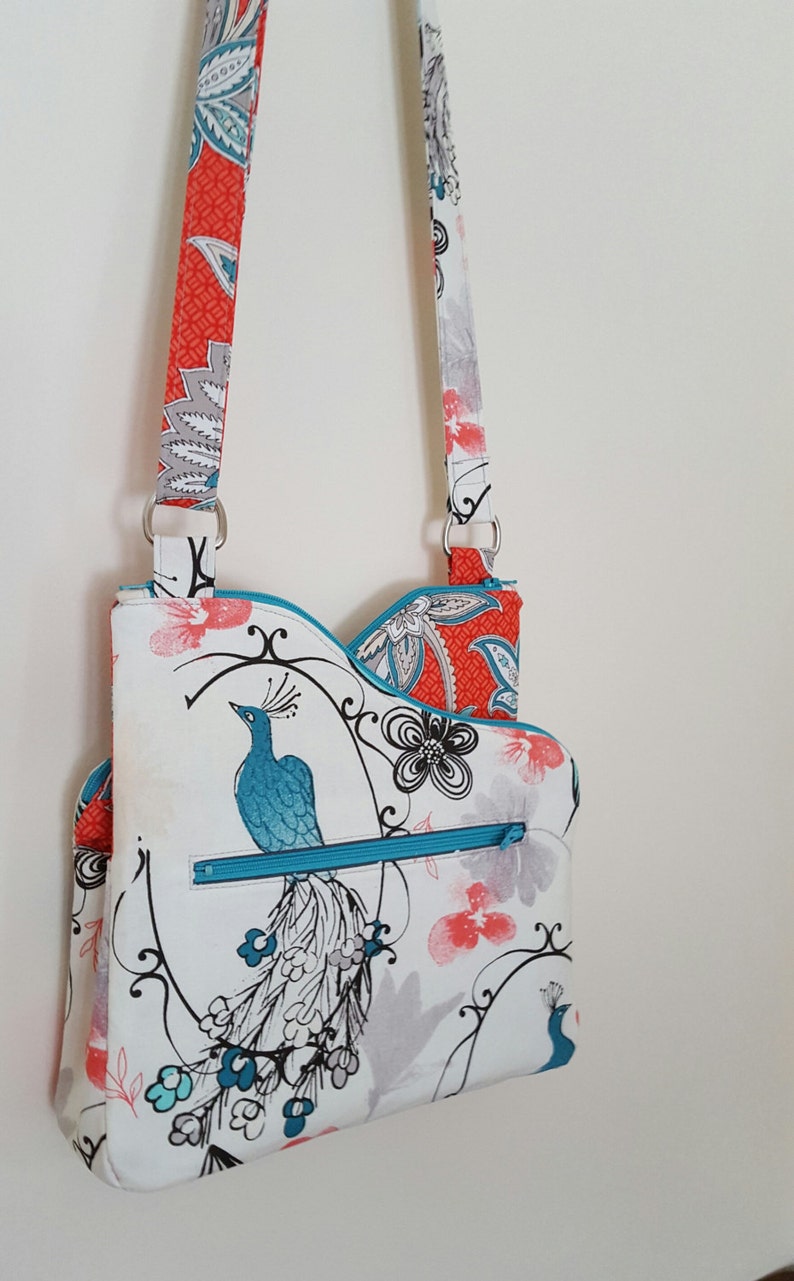 Cloudsplitter Bags Shop is another Etsy shop focussing on handbag patterns. We especially like the fact that the patterns are split up according to the sewing level that you're comfortable at – beginner, intermediate & advanced.
The Zip-To-It sling bag pattern is the perfect little cross body bag for the fabric obsessed!! It is designed to be used with a fabric pair on the exterior, so that you can put your own personal style and aesthetic into it. The curved zipper tops give it a funky, eye-catching design.
Zip-To-It sling bag pattern is composed of three separate compartments. Also, the two sides are each a zippered pouch with slip pocket inside, and the center compartment is open, but closed with a magnetic flap. Perfect for traveling, or just those who don't like to carry a huge lug of a bag around!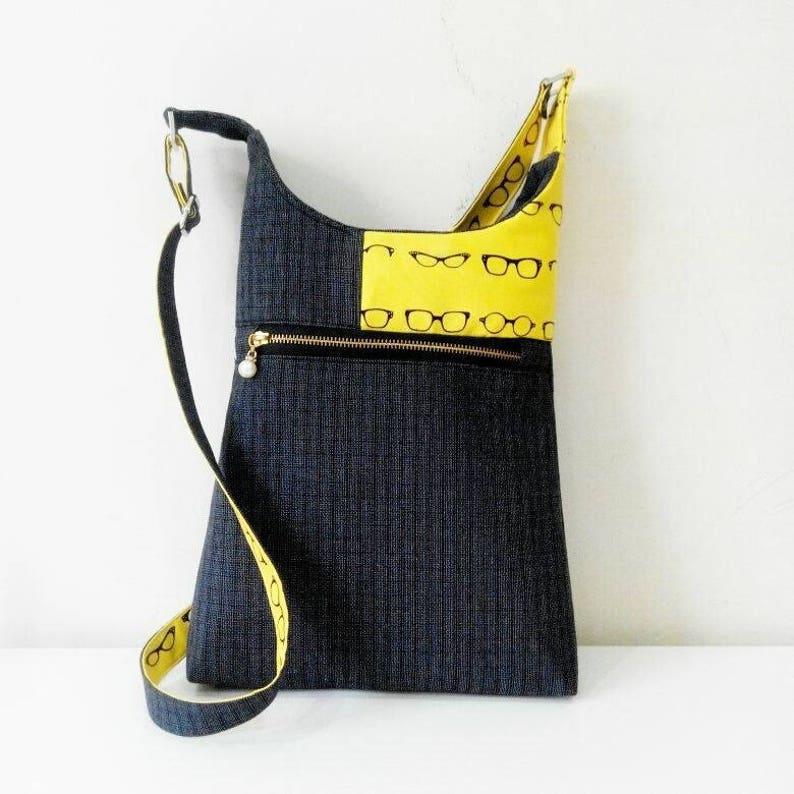 Focussing on simple and practical bags, each of the Imasspatterns shop's patterns' instructions are clear, easy-to-follow, with photos illustrating each step.
The Hipster Sling Bag with Zipper is a simple, quick-to-make hipster / cross-body / shoulder bag. Also, there are 2 sizes included.
The bag is meant for casual wear – the size will not weigh you down while shopping, cycling or strolling in town. Yet it has ample room for your phones, clutch, keys and even a small book you're currently reading. You may skip the recessed zipper part and apply magnetic snap, buttons, velcro, etc. for quicker job.
Share this Pin on Pinterest!